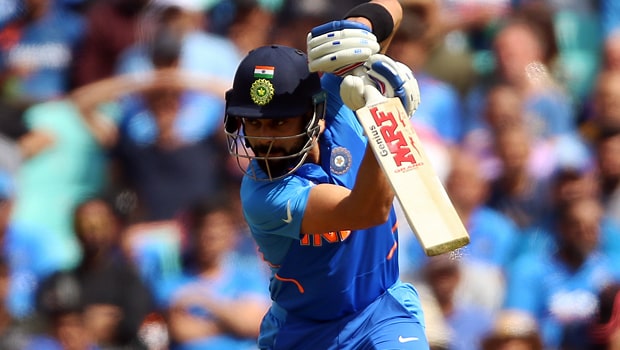 Courtney Walsh Heaps Massive Praise On Virat Kohli on Occasion of His 500th International Game
21 July, 2023
In his monumental 500th international game, Indian cricket legend Virat Kohli stands on the verge of yet another remarkable milestone. At the close of play on Day 1 of the second Test match of the West Indies tour, Kohli remained unbeaten on an impressive score of 87. Should he add 13 more runs to his innings, the 34-year-old will become the first player to achieve a century in his 500th international match, an extraordinary feat that will etch his name in the annals of cricket history.
The cricketing world is abuzz with admiration and praise for Kohli as he inches closer to this remarkable achievement. West Indies cricket legend Courtney Walsh has weighed in on the matter, comparing the Indian star batter to iconic players like Sachin Tendulkar and Javed Miandad. While Walsh acknowledges Kohli as undoubtedly one of the top five greatest cricketers of all time, he places him just behind the legendary Sachin in terms of Indian cricketing greats. Follow your favourite cricket team with attractive betting odds from Nextbet.
Speaking with JioCinema, Walsh shared, "Well, as an Indian great, I would rate him just behind Sachin. Sachin is one of the greatest I have seen and played against. Brian Lara, Viv Richards, I will put them up from a West Indian point of view. Ricky Ponting and Steve Waugh, two gentlemen I played against when I was a youngster. There are also Graham Gooch from England and Javed Miandad, against whom I probably did not play as much, but the value they put on their wickets reminded me of Virat Kohli as well. He doesn't want to go. So I will definitely have him in my top 4, top 5 greatest cricketers I have seen."
Interestingly, Kohli has been in splendid form on the West Indies tour, scoring 76 runs in the first Test match, making this his second consecutive fifty-plus score. The Indian captain boasts an illustrious career record, having played 111 Tests, 274 ODIs, and 115 T20Is. Recently, he achieved the incredible milestone of becoming the fastest player to reach the landmark of 25,000 runs in international cricket.
Meanwhile, India secured victory in the first Test match held in Dominica, giving them a 1-0 lead in the two-match series, captained by Rohit Sharma. During the second Test, the Windies skipper Kraigg Brathwaite won the toss and chose to bowl first. The Indian side wrapped up Day 1 with a score of 288/4, with Yashasvi Jaiswal and Rohit forming a strong opening partnership of 139 runs. As the action moves to Day 2 at the Queens Park Oval, fans eagerly await the possibility of witnessing Kohli's 29th Test century, a moment that would surely leave an indelible mark in cricketing history. Get the latest updates from the world of cricket only on Nextbet Sports.