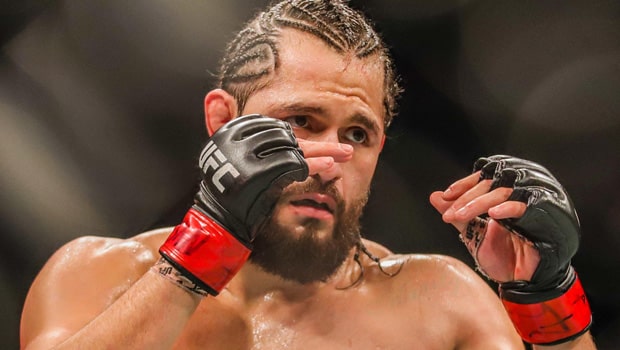 Jorge Masvidal slams Jake Paul for his comments on UFC President Dana White
8 February, 2023
Senior American MMA professional Jorge Masvidal expressed his disappointment with the behavior of popular social media personality and UFC star Jake Paul. Jake Paul over the last few years has not been very kind with his comments on the current UFC President Dana White and received criticism about it from Masvidal.
Masvidal was in a conversation with Ariel Helwani on a recent appearance on 'The MMA Hour'. He was talking about his upcoming 'Gambred Boxing 4', which will see Anthony Pettis vs Roy Jones Jr. in the main event. Masvidal also made his thoughts known, in his own style, about Jake Paul and his dissing of Dana White. The 38-year-old used quite a harsh language as well.
"He's always f**king taking care of us and this doesn't happen without Dana White and the UFC giving the permission so these guys can fight. When I hear somebody like Jake Paul talking s**t about my business partners, I'm like f**k this idiot, what the f**k have you done in this sport, but feed yourself? Shut the f**k up and now watch how the big boys do it," Masvidal said.
Masvidal last fought in March of 2022 and this was also the time when he suffered a unanimous decision loss at the hands of Colby Covington (17-3 MMA) at UFC 272. The 38 year old will be looking to get back into the win column after 3 concurrent losses in the Octagon.
Jorge Masvidal has some major plans in the coming months and has put together a boxing card with some legendary combat sports names. Boxing legend Roy Jones Jr. and former UFC lightweight champ Anthony Pettis will lock hornsin a pro boxing match on April 1 in Pettis' hometown of Milwaukee. The fight will act as the headliner of Gamebred Boxing 4 and is contracted for eight rounds.
Masvidal himself will take on Gilbert Burns in the co-main event of UFC 287 on April 8, just a week after this boxing card. He mentioned that he'll fly in on a private jet to Milwaukee, spend two or three days there and then head back to his hometown of Miami, where UFC 287 will take place. Masvidal said he spent the whole holiday season working on this event.