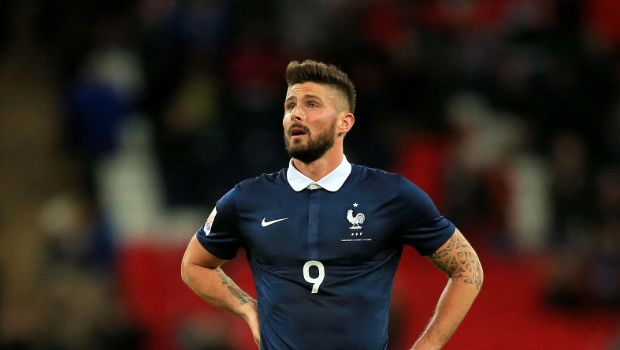 Olivier Giroud keen on Premier League return; multiple clubs keep tabs
27 February, 2023
Among the many underrated players in the last decade that braced the English soil, French forward Olivier Giroud tops the charts. A relentless runner and scorer of fantastic goals, Giroud was a proper team man who made life so much easier for his managers, who would contribute with him workrate or creative play if not for the goals he's scoring. 
As per the reports from Daily Mail, the World Cup-winning forward is open to a Premier League return and there are four interested keeping tabs to welcome him into their dressing room. The report suggests that the French international would particularly prefer a move to a London club, where he spent all of his Premier League life with Arsenal and Chelsea, when his contract with AC Milan expires at the end of the season.
Giroud may not be the youngest striker around and will be turning 37 this year, but he's certainly one of the most experienced and is still capable of contributing at the highest level. Having scored 90 Premier League goals during his time with Arsenal and Chelsea, the Frenchman could prove to be a valuable asset for a number of clubs.
As it stands, some of the clubs that apparently are in contention to get this signing are West Ham, Crystal Palace, Brentford, and Fulham. They are all looking for strikers andare said to be interested in the former Puskas Award winner, who has already started planning his next move ahead of the summer transfer window.
Patrick Vieira's Crystal Palace have really churned up some impressive results this season but are lacking a good goal-scoring going forward. Another London club who are in dire need of a top class striker are West Ham who have exponentially to find the back of the net consistently this season. Olivier Giroud could just be the man to help either of them out, with his track record of scoring crucial goals in big games.
In January, Giroud was also being linked to a move to Manchester United, who were looking for the replacement of Cristiano Ronaldo temporarily but they eventually signed Wout Weghorst from Besiktas. Giroud has been a top contributor to AC Milan since moving there recently, scoring 25 goals in 67 matches, including a triumphant Serie A season in 2021-22. If you are looking for more information about Football news and betting odds go to one of Asia's leading online betting sites Nextbet.