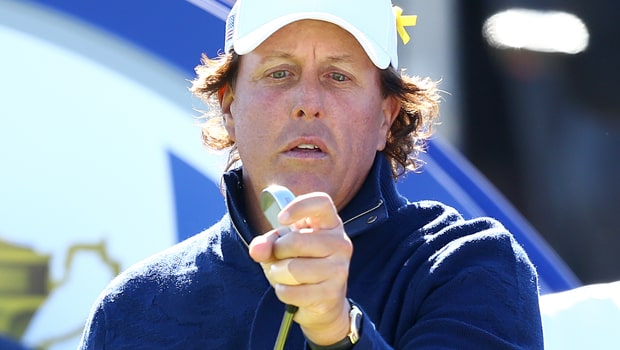 Phil Mickelson's LIV Golf participation sees him hurtle towards a career low ranking
1 March, 2023
Golf superstar Phil Mickelson is starting to pay the price for his decision to switch to the controversial LIV Golf. Mickelson caused a huge uproar as he decided to join the rebellious Saudi league which has been at direct odds with the conventional PGA Tour and is also said to be backed by a massive sportswashing project from the Middle Eastern nation.
If Mickelson's world ranking is go by, he is seemingly falling out of reckoning and he nosedived towards a new low after falling out of the world's top 300 players for the first time in his professional career. He also became a famous player in the betting world.
Mickelson competed in LIV Golf's opening event of their 2023 season last weekend. The American finished in a tie for 27th at Mayakoba. This earned him a huge paycheck of £135,000 just for three days of his time and participation at the event in Mexico. Mickelson's bank balance continues to rise dramatically since his move to LIV Golf and he has pocketed a cool £1.6million despite competing in just nine events so far.
This comes on top of the six-time major champion's reported £166 million mega-money signing on fee on behalf of LIV Golf, and there is no doubt that the American no doubt reaping the financial reward for his Saudi switch.
However, not everything has been moving in a positive direction for the 52-year-old. While he is making more money than he has ever made at any stage of his career, Mickelson's spot in the Official World Golf Ranking (OWGR) has collapsed in the opposite direction.
The 54-time PGA Tour Winner suffered a dramatic slump in rankings and fell to a career low on Monday.
Mickelson fell out of the top 300 world rankings and he currently sits at a lowly 318th. The situation seems unlikely to improve anytime soon and despite LIV Golf's best efforts, the Official World Golf Ranking will not be providing ranking points to their events this season.
The Saudi-backed series have made a number of attempts to change that, but have so far failed.
Mickelson has also criticised OWGR because of the lack of recognition due to their participation in LIV Golf. He has also gone on to predict that another system might be introduced in order to rank those who are participating in LIV Golf events. If you are looking for more information about Golf news and betting go to Nextbet.