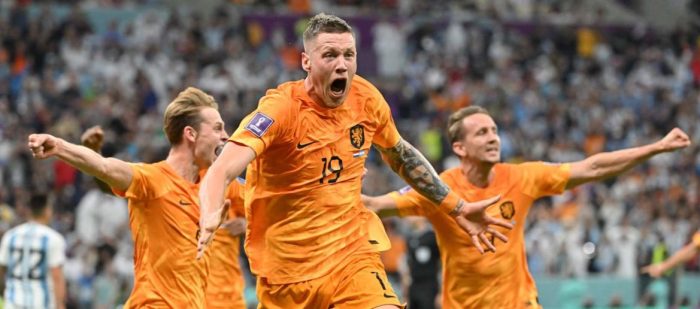 Wout Weghorst bids 'goodbye' to Besiktas fans amid Manchester United transfer rumors
9 January, 2023
Wout Weghorst, who is playing for Besiktas on loan for Burnley, performed a notable celebration after scoring for the Turkish side, bidding the fans goodbye amid rumours of his transfer to Manchester United. 
Everyone opined that the celebration meant that Weghorst was surely on his way out of Besiktas. Weghorst also confirmed that by putting up a post on social media, which had a black eagle emoji — the nickname for Besiktas. It also had a black and white love emoji, which signifies the colours the Besiktas' jersey is made up of.
Weghorst has also emerged as a transfer target for Manchester United of late. Erik ten Hag's side is a bit depleted on attack after Cristiano Ronaldo's departure and that's why the Red Devils are looking to sign Weghorst on loan from Burnley.
The forward has scored nine goals and four assists in 18 games so far this season. He also has experience of playing in English football, having represented Burnley in 20 games before.
Weghorst also shot to fame when he helped Netherlands in making a memorable comeback in the quarterfinals of the FIFA World Cup 2023 against Argentina. The South American nation was leading 2-0 but Weghorst came on as a substitute and scored a brace. Netherlands eventually went on to lose the match on penalties but that was a sensational performance from Weghorst.
Still the signing of Weghorst has come on as a bit of a surprise for many Manchester United fans and pundits. But former coach Rene Meulensteen has backed Erik ten Hag.
"Ten Hag knows what he is doing, for sure. He is 30 years old, so it is a stop-gap because of the ongoing rumours with the takeover of new owners. That is probably the reason Ten Hag is being forced to do loan deals," Meulensteen told BBC.
""He needs to do something in the transfer window though. So in this case, it's better to go with someone you know. It is not one for the long term but it is somebody who can do a job for them in the short term, especially in the latter stages of a game when they need to force something," he added.