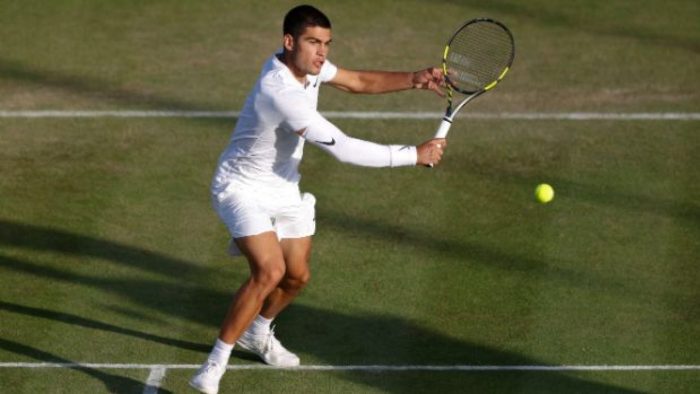 Carlos Alcaraz defends his title in Catalonia and emulates Nadal in the process
25 April, 2023
Life is very easy on the tennis court for US Open 2022 champion Carlos Alcaraz. He is quickly becoming the next big thing in the world of sports and is on his way towards the greatest of glories. He went on to achieve a special feat in Barcelona, which previously only was achieved by Rafael Nadal.
Alcaraz won the Barcelona Open comfortably and became the first player since Nadal to defend the title successfully. He came trumps with a comfortable 6-3, 6-4 win over Stefanos Tsitsipas on Sunday, securing his third title of the year and ninth of his impressive young career.
In control and looking as dominant as ever, Carlos Alcaraz nodded his head from side to side to the tune of the music being played on the Rafa Nadal center court. The 19-year-old Spaniard couldn't be more relaxed while sitting on the bench during a late changeover, watching the home crowd dance and enjoying the moment.
"Me and my team were talking before the match about staying relaxed," Alcaraz said. "To want to play the tough moments. Staying relaxed is the most important part for me. To forget the mistakes, everything, and be myself on court. Not to think about all the people watching, but just me, the court, the racket and the final."
Alcaraz has now won five consecutive matches in straight sets and is ranked second at his home tournament this year.. He is now 10-1 in Barcelona and has won his last 14 tour matches on Spanish soil, really taking over the torch from Rafael Nadal as many predict him to do. For more Tennis news and good betting odds visit Nextbet.
"It's incredible to feel this energy, to lift the trophy here in Barcelona in front of all my people," said Alcaraz, who used to watch the tournament in the stands as a kid. "My family and my friends are here as well. To lift the trophy here in front of all of them is a great feeling."
Alcaraz had not successfully defended a title in his career before Sunday. Nadal was the last player to win consecutive titles in Barcelona with three straight from 2016-18. Alcaraz will also try to defend his title at the upcoming Madrid Open. He is now 23-2 for the year. His other titles this season came at Buenos Aires and Indian Wells. Alcaraz was playing in his fourth final in five tournaments this year, winning it with 26 winners and seven unforced errors.