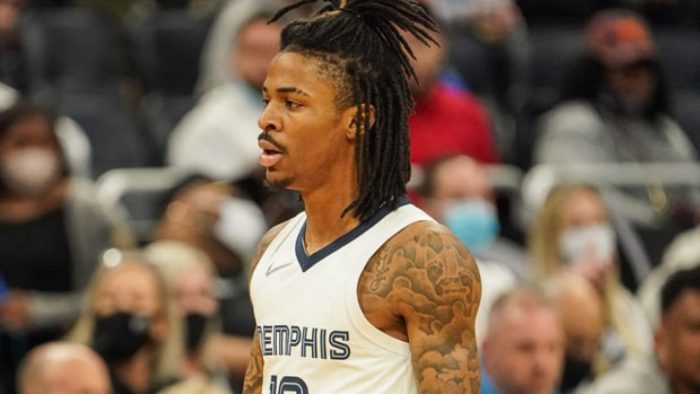 Ja Morant opens up after Colorado night club incident
17 March, 2023
Memphis Grizzlies star guard Ja Morant remains to be one of their most important players, who has been chipping in with crucial contributions this season. However, a controversy surrounding the player now has hogged him all the negative limelight and is all set to be banned for eight matches and is running the risk of further punishments. 
The decision was taken after it was revealed that the NBA is investigating a social media post that was circulating last week. In that post, the Grizzlies star guard is seen appearing to brandish a gun at a club, which did not sit well with a lot of fans on social media considering the country's horrible record with recent gun culture.
The NBA superstar opened up for the first time since the incident and mentioned that it was a situation that put him and his career under severe threat. However, he wants to hold himself accountable, do the needful and ensure this mistake doesn't repeat itself.
"Honestly, I feel like we put ourselves in that situation with our past mistakes, and now it's only right that we focus in and lock in on being smarter and more responsible, holding each other accountable for everything," Morant said in an interview with ESPN hours after meeting with Adam Silver and learning of his suspension.
"I feel like in the past we didn't know what was at stake," the Grizzlies star opened up. Morant had taken himself off social media for a while after this incident and has now reinstated both the accounts.
The situation comes on the back of what has been a rough start to the year for Morant off the court. Earlier this week, the star guard was accused of threatening the head of security at a Memphis mall last summer, per a police report. The altercation started after Morant's mother had a dispute with an employee at a Finish Line store within the mall, which led her to call her son.
The Grizzlies went on a three-match winning run after Morant's suspension, but it all came to an end against Miami Heat, who won 138-119 on Wednesday night. They currently occupy the third spot in the Western Conference. If you are looking for more Basketball news and good betting odds go to Nextbet.